Finding Shelter in the Chaos: Continuing to Listen, Hone, and Heal
A lot has been changing in my work life and my schedule in the past few weeks, and I'm trying to get some closure on a few things that I started earlier this year, so I can move forward in my ventures with greater focus. This means I'm back to trying to wrap up loose ends, meaning in this case the review of when I really started making time to listen to Spirit every day and started having fabulous results. (If you're new here and interested, you can check these out from the beginning.)
Last time I reviewed journal entries, the theme of the entries ended up being about self-esteem issues.
Today, we're picking up at the beginning of September 2016.
Friday 2 September 2016
I realized that my TMM [The Miracle Morning] visualization board includes nothing focused on my business, income, or YoSaL [my memoir, Year of Shadow and Light]. The reassurance I received was "As these things (on the board) are put in order, the money will come in." So I focus on … knowing where I need to be, loving myself as I am and thus "remaking" my body from a place of love, healing myself … and letting the flame in my heart light the way for others, trusting my intuition and my strength, and always moving forward, the money will "take care of itself."
***
That message was immediately supported for me when I started my daily reading [U. S. Andersen's Three Magic Words]:
For the while, there is no point in attempting a shortcut through time and space by mind power. It is enough to free your thinking of its negative bonds, to allow yourself to take free part in the creation of your own wishes and desires, and thus to fill your life with achievement and good.
Intuition is not merely a "hunch" but an irresistible light which must be followed. … It is enough for us now to effect creation through the established chain of physical movement. This we can do by refusing to accept doubt and fear.
Thursday 8 September 2016
Transformation is happening with me. I'm unsure of its exact nature or form, but when I still myself, I can sense it, even "hear" it. Something is changing, though I don't yet know what. But I trust God's guidance. By following my intuition, I'm following God.
Sunday 11 September 2016
During meditation/communion time, I was educated by one of my guides about the interaction of Earth and humans. She (Earth) simply goes about existing, performing her "duties" in the best way she can, given how we (humans) affect things. Just as we've learned that forest fires in nature are actually normal and even beneficial, serving to thin overgrowth and to allow certain other plants to take root, hurricanes & tornadoes are normal and serve an ecological purpose (also just as river flooding does). We humans don't yet understand those purposes, but that doesn't make them any less real.
The Earth has her overall purpose, and we have ours. We [humanity and Earth] affect each other and interact, but we can't really destroy her, and she will be here after we are gone, still fulfilling her purpose, which, overall, is different from ours even though right now, her purpose and ours affect one another.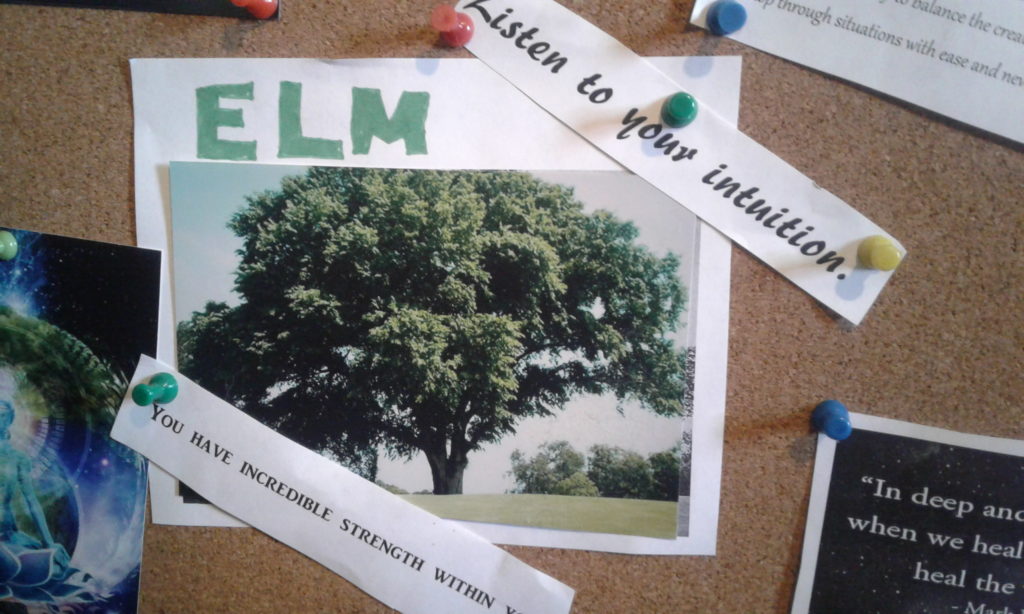 Wednesday 14 September 2016
[I had] nothing [specific] to write [about] today, so I opened myself to the Divine for any messages. [This is what came through:]
All is love. Love is light. Love leads us in all things, is present in all things, guides our endeavors. We move forward so long as love is our guide, our shield, our "weapon" of choice. We wound not with love but heal, touch, inflame the hearts and minds of others toward further love. Let "Love!" be our battle cry, running forward to meet our foes, our oppressors, with open arms so the love spreads, projects, shines forth. Some will close their eyes, shield their eyes, turn from it, even run away, but we shine for all to come to when they are ready. Eventually, all find their way, for, as you [me, Stephanie] are fond of saying, "All roads lead home."
Friday 16 September 2016
Jumpy, agitated, like I need to get moving on [a plan for work], even though my guides tell me to have patience.
***
One of my guides chides me today when I [consider asking someone to perform an intuitive reading for me] because all I have to do is listen to them. When I reply that I know, and I do listen to & trust them but I don't trust my own interpretation, they tell me I should I laugh. I know I should. Sometimes, like today, it's hard to know if my agitation about things moving slowly is prompting from the Universe to get my butt in gear or is simply generated from within. My guides tell me to be still to find the answer. And also that even on "their side," things can take time to manifest. They tell me I will have everything I want … but that it can take time to get everything in place for that to work out in the best way. (Essentially, I can have it fast or I can have it "right," meaning what I've requested. …)
So I repeat: I trust. I am patient.
Saturday 17 September 2017
I've had a hard time focusing today, agitated. … I couldn't focus, was worried … about meeting deadlines, getting everything done, having enough time. Seemed unable to focus. … I could hear my guides but couldn't quiet my mind long enough to "accept" a long message. So we decided I usually get best results when I'm writing and just letting it flow through me. So that's what I'm going to do:
You worked today on [a project], and that was our nudging. You have foundation to lay. It will take time, so be patient, but work. The agitation was not our prompting but yours, at feeling out of control. So work a little each day, as you have planned. Remember the kangaroo. Movement is all that is needed. Your movement makes clear your intention.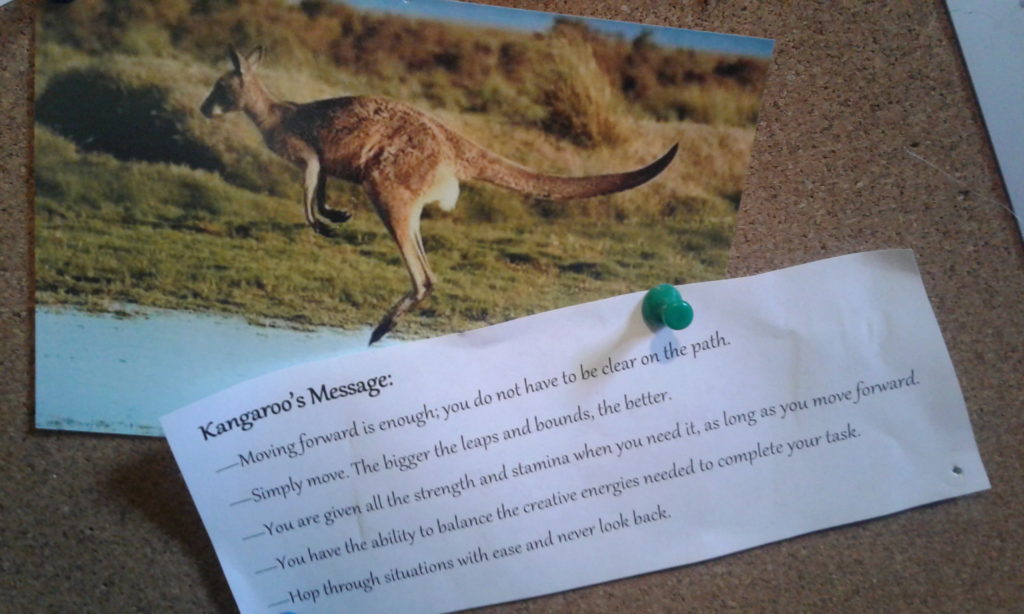 Wednesday 21 September 2016
Yesterday sometime, got the idea/impression from my guides that it's unclear, even on their "side," how this year's presidential election will turn out in the US. I find that exciting but also sobering. It means, if I understand correctly, that this is a very important point in humanity's existence, where we as a whole (the whole world watches and is involved) are indicating the way we want to grow, and thus, in very real ways, every voice, every intent, every individual's energy is important in this time.
***
I spoke directly with [my daughter's] (main) spirit guide last night. … It started with him speaking to me as I was thinking of her, and then I realized the "voice" was one I was unfamiliar with, certainly not my own, so I asked some questions and became acquainted with him … and his tone. It was an interesting experience.
I'm not sure if more guides are now speaking with me, if I'm simply now able to distinguish between all who have always spoken to me, or if now, I can actually "hear" them rather than simply receive impressions of emotions from them/"their humans" as I've always done as an empath.
As you can see, there was not a real theme to the messages coming through. I think that was partly because there was so much going on, so much fear and anxiety in me and the world at the time. But because of that anxiety, I was trying harder and harder to open up to the messages, and my abilities were expanding, as I noted in the last entry above. It really is as simple as that, if you're wanting to get in better touch with your guides: setting aside dedicated time in which to really listen to the messages coming through. The more you practice, the more you notice, the more distinctions you are able to make, and the easier it all gets.
If you want to get (back) in touch with your spirit guides, try my Meet Your Spirit Guide meditation. You can do it multiple times to get in contact with different guides—simply set the intention at the beginning that you want to meet another one of your spirit guides rather than the "lead."
Have any questions so far? Comment below or email me. I'll probably turn the response into another blog post.