How Caring for Plants Reminds Me that We Are All Connected
You know how last week, I said that doing readings has been fun?
It's also been incredibly rewarding. When I get an email from a client who has been helped by the message that I have been the conduit for, my heart surges with joy. Quite often, I'm brought to tears by the relief, happiness, or thankfulness that my clients express about the messages I've given them.
We are all connected, as I mentioned a few weeks ago. The image below reminds me of that. It has drawn me since the first moment I saw it. The blue light in the center of the chest, with tendrils going in all directions, captures perfectly the surge I feel in my heart when I connect with my clients' joy.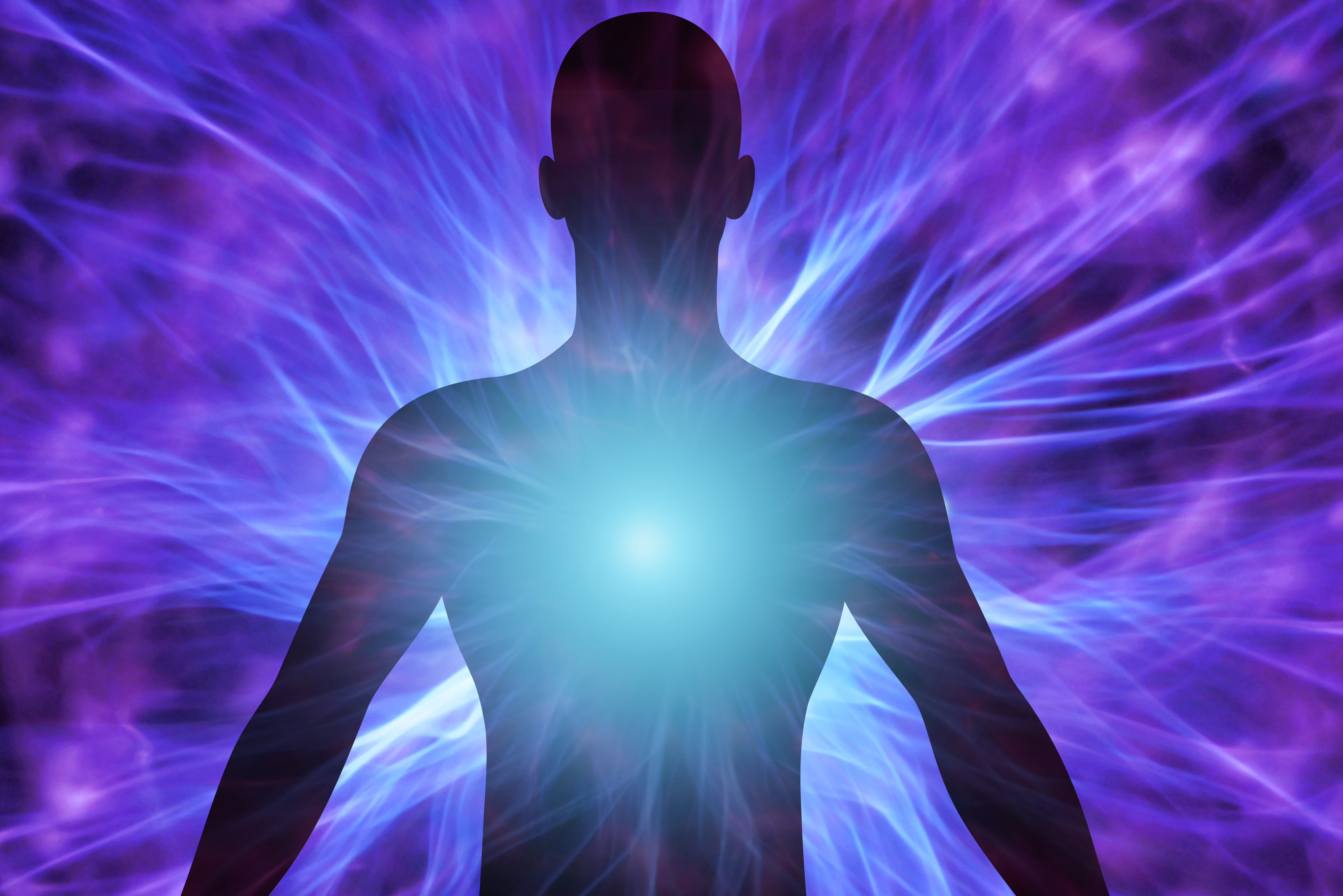 In the past year, I've found myself experiencing that same surge in my chest when I walk out into the orchard and berry patch that my husband and I planted 9 years ago. Our acreage had been commercially farmed for several years, and when we moved in, the soil was very poor, to say the least. We have devoted time and money every year to healing the land, and the land is happy about that.
The trees and plants are happy. They let me know that by sending a pulse of love right to my heart, just like our guides tend to use to communicate with us and show us their support.
I feel the same thing when I go out into my vegetable garden in the summer and harvest the fruits there. In fact, last year, I had a … unique experience around this that gave me a new perspective on some of my existing beliefs.
We have a problem every year with hornworms on our tomato plants. Conventional wisdom says that you use pesticides on the plants to get rid of the worms. We avoid pesticides as much as possible (for many reasons), but that avoidance means that when we have hornworms, we have to manage them in some other way until the worms' natural predators (parasitic wasps) arrive … which means removing the worms from the plants manually.
The worms hate to let go if we try to pull them off, so we cut them in half with scissors, and they eventually fall off.
These hornworms have excellent camouflage, and I have visual obscurations (blindspots all over my visual field), so when I recognize the hornworms, they often really startle me, both because I'm usually nearly face-to-face with them and because I have … issues with worms, caterpillars, grubs, or anything wriggly like that. So I get the willies. (Have I mentioned that if they feel threatened, hornworms will rear back and hiss at you? Yikes!)
Because of the issues I have, my husband is the one who snips the worms in half. Last year, however, there was one day he could not come out and "take care" of the worms for me, so I had to put on my big-girl panties and do it myself.
I really do hate killing things, and with my dislike of worms (did I mention the hissing?), I had a lot of issues to conquer that day.
Finally, after much hemming and hawing, I snipped the first one in half …
… and then began sobbing and shaking like a leaf.
Because I feel the connection of all entities to my core, to take a life, even a life as "small" and "insignificant" as this one, hurt me. Plus, if you don't snip them cleanly, the worms will—you guessed it—hiss.
(You might be wondering, so I'll add that I'm not a vegetarian. I see the deaths of animals to nourish us as having meaning, whereas it seemed to me that to kill these worms was to kill for no reason. Hey, it was an emotional response, not a logical one, I admit.)
So, why am I telling you this? Because, halfway through the ordeal of me searching for worms and then steeling myself to kill them (I was a nervous wreck), I swear, the plants sent me a huge burst of love—bigger than the ones the trees send me—along with words of comfort. They were thanking me for caring for them.
For a few moments, I thought maybe I was crazy. I've always talked to plants, and I've always loved being around them and have felt those pulses of love from them, but to think that the plants might be talking to me? Well, that sounded weird to me.
(I always find it amusing—and yes, I laugh at myself—when I bump up against resistance in my own beliefs, given how many of them are absurd by conventional standards.)
After feeling that burst of love and comfort, I almost instantly stopped sobbing. I also stopped apologizing to the hornworms for taking their lives. Although my heart hurt because I was taking life, I realized, thanks to those plant voices, that I was also preserving life.
See, I thought I was killing the hornworms so they wouldn't eat the tomatoes and strip more foliage from the plants (after all, less foliage = fewer tomatoes). But as far as the tomato plants were concerned, I was a protector and nurturer of plants.
That incident reminded me of several things.
First:
In our souls' journeys, there is no absolute right or wrong.
(Remember, this is in my worldview, which, as you may have guessed, is not based on an Abrahamic religion.) Everything must die, and quite often, we plan ahead of time how we will die. Even animals can make this plan. Thus, taking the lives of those hornworms was not necessarily something I should have felt bad about—it all depends on perspective.
Perhaps those hornworms were sad that they died that day, or perhaps they weren't; maybe they were pleased that I was crying over their deaths because whatever usually kills them (predatory wasps, for example) feels no remorse, but I did.
The second thing that the incident in the garden reminded me of:
I also understand the importance of a balanced ecosystem and the fact that sometimes, for the highest good of all, we have to manage the ecosystems we have imbalanced by our very presence, as well as artificial ecosystems that we have created—like vegetable gardens.
We are all connected, even in death.
Even if those hornworms have no consciousness that will continue on, as their bodies disintegrate, they will provide nutrients for the plants that they have been feeding on.
Finally, I learned that:
When we're open to feeling the love and gratitude of others, we can feel it from the unlikeliest of places.
In my belief system, all objects in the universe have some sort of awareness. I don't pretend to even begin to understand how the awareness of most things—celestial bodies, for example—works, but I feel it. Right in the deepest, truest part of me, I feel my connection to others—plants, animals, crystals, rocks, stars—you name it.
The more time I spend in touch with my guides, the more acutely I feel a connection to everything. After all, we communicate with our guides using pure energy.
In attuning more and more to the energy that connects me to my guides, I'm "tuning in" to the energy that connects everything.
It is powerful. It is rewarding.
And it is humbling to be able to act as a bridge from that purely energetic state to this very physical realm in which we somehow forget that matter really is simply energy.
Thank you for allowing me to help you become more aware of this connection, and thank you for constantly reinforcing for me just how connected we really are—and that these messages I get really do make sense to you. (I'm learning to trust my abilities, but doubt helps keep me modest.)